Zoma Dental – The Right Dentist in West Bloomfield & Downtown Farmington
Dental Pain?
Cracked / Broken Tooth?
Tooth Sensitivity?
Stained Teeth?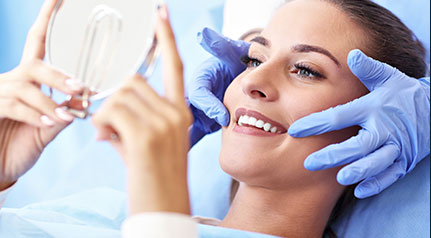 Second Opinion?
Contact Us Today!
We'd love to meet you, and give you the smile you deserve.
Please note: We have talented doctors, an awesome staff, free second opinions, and many insurance and financing options available.
Infection Control
Zoma dental's #1 priority is to keep our patients, dental team and community safe and healthy. See what we are doing to prevent COVID-19 in our office.
Dr. Zoma
I chose the field of dentistry because I have a passion for helping people look good, feel good, and stay healthy. My core philosophy with every patient I treat is, "would I provide this care for my family or myself?" I pride myself in treating all my patients like family and my goal each and every day is to make sure that I perform the highest level of dental care both compassionately and ethically. Dentistry is not just a career to me; it is my life and my passion.

– Dr. Jacqueline J. Zoma
Dental Services
Complete family dentistry from cleanings to root canals. Join the Zoma Dental family and let us give your smile the attention it deserves.
A True Passion For Dentistry.
Warm & Friendly Staff
Free WiFi & Parking
Dentist Near I696 Access
Convenient Extended Hours
5 Star West Bloomfield Dentists
Get In Touch
Contact Us
Farmington:
Phone (248) 474-0273
Email: smiles@zomadental.com
West Bloomfield:
Phone (248) 932-0550
Email: smile@zomadental.com
Dentists serving West Bloomfield, Birmingham, Beverly Hills, Bloomfield Hills, Farmington, Farmington Hills, Franklin & Orchard Lake Village.
Get In Touch
Contact Us
West Bloomfield:
Phone (248) 932-0550
Email: smile@zomadental.com
Farmington:
Phone (248) 474-0273
Email: smiles@zomadental.com
Get In Touch
Contact Us
West Bloomfield:
Phone (248) 932-0550
Email: smile@zomadental.com
Farmington:
Phone (248) 474-0273
Email: smiles@zomadental.com